Raga 2022: Yatra – Melodies of pilgrimage
by The Esplanade Co Ltd
Sun, 31 Jul 2022, 5pm

S$30
Raga 2022: Yatra – Melodies of pilgrimage
Sun, 31 Jul 2022, 5pm

S$30
Yatra presents a pilgrimage to seven auspicious mountain temples across India. The deities honored in these temples – Surya, Brahma, Mahishasura Mardhini, Shiva, Vishnu, Murugan, and Aiyyapan – teach us the fundamental principles of life. From the birth of the cosmos to the creation of life, the destruction of evil, the infinite nature of life that has neither beginning nor end, the removal of ignorance, the attainment of wisdom, as well as the final step of renunciation that leads to liberation, Yatra is a celebration of the journey of life.

This production...
More
Start Sales Date
Public Sales
Internet:
31 May 2022 onwards, 9am

SISTIC Authorised Agents:
31 May 2022, 10am

Esplanade Box Office:
31 May 2022, 12 noon - 6pm
---
Duration
Approximately 1 hour 30 mins, no intermission
Admission Rules of Esplanade:
SafeEntry Check-in
All patrons are required to do SafeEntry check-in at the venue via the TraceTogether app (version 2.11 and above) or token only. Other modes of SafeEntry check-in will not be accepted.
Rating/Age Limit
Admission is subject to tickets produced at the entrance.
Infants in arms or children below the age of 6 shall not be admitted.
Children aged 6 years and above must purchase ticket for admission.
Late Seating Advisory
You are strongly advised to be seated before the performance start time.
Latecomers will be admitted during suitable breaks, if any.
Exceptions may be made at Esplanade's discretion depending on the nature of the performance.
Photography/Video Recording Rules
No flash photography, unauthorised professional photography, video and audio recording is allowed for this event.
Please note that photographs and videos of patrons may be taken at this event for use in our archival and publicity material.
Help Us Keep Everyone Safe
Maintain safe distancing between groups.
Keep your mask on and practice good personal hygiene.
Use the hand sanitiser provided around the centre and in the performance venues.
Strictly no food & beverage allowed in the performance venues.
Esplanade reserves the right not to admit patrons who do not comply with prevailing safe management measures.
Stay at home if you're unwell.
All patrons (except for children aged 12 and below) need to be fully vaccinated against COVID-19. Mask-wearing is required for all indoor events.
Supported by High Commission of India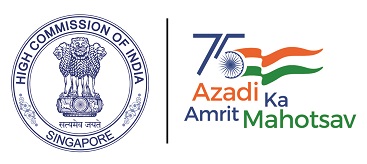 Price Details
(Excludes Booking Fee)
Please add to above price S$4 Booking Fee per ticket for tickets above S$40; S$3 Booking Fee per ticket for tickets between S$20.01 - S$40, S$1 Booking Fee per ticket for tickets between S$10.01 - $20, and S$0.50 Booking Fee per ticket for tickets between $0.01 - $10. Charges include GST where applicable.