Jakarta Concert Orchestra's Vibes of Nusantara [G]
by Union Hart Advisors Pte Ltd
Wed, 21 Sep 2022 7.30pm

Seat Map
S$18 - S$88
Event is over!
This event has ended and no longer available for booking.
Spend a magnificent evening with the Jakarta Concert Orchestra (JCO), one of the best orchestras in Indonesia who has been consistently nurturing concert-goers with series of classical music as well as other types of orchestral performances with high-level of artistic standards.

Under the direction of maestro Avip Priatna--who earned his master degree in conducting from the University of Music and Performing Arts in Vienna--they will transport you to Indonesia with music that has strong Indonesian flavors but was composed with taste, disciplines and styles of Western cl...
More
Start Sales Date
Internet & Mobile:
31 Aug 2022, 9am

Other channels:
31 Aug 2022, 10am
---
Language
English and Indonesian
---
Duration
Approximately 1 hour and 45 minutes, with a 20 minutes interval
Rating / Age Limit
Rating: General
Children 7 years and above must purchase ticket for entry
Children under 7 will not be admitted into the hall, even with a ticket.
Please bring along proof of child's age, such as a student concession pass, as random checks may be conducted at the venue.
Parents or guardians of children admitted are strongly encouraged to purchase aisle seats.
We reserve the right to ask parents to bring children out of the hall should they be disruptive during the performance.
There is no admission without a ticket.
Photography / Video Recording Rules
Unauthorised photography and videography are strictly not allowed when artists are performing.
You may take photos (without flash) and videos when artists are not performing, e.g. during bows and applause.
Safe Management Measures
In line with Safe Management Measures for events exceeding 500 attendees, only fully vaccinated, recovered, medically ineligible individuals, or children aged 12 and below (minimum 7) will be admitted.
Refunds will not be granted to ticket-holders who do not meet these admission requirements.
To ensure sufficient time for admission and safe distancing, please arrive at the venue at least 30 minutes before the start of the concert.
All ticket holders are required to be fully vaccinated and need to show their vaccination status (eg. on trace together app) before entering the concert hall.
Latecomers will only be admitted at suitable breaks if any.
No changing of seats is allowed.
JAKARTA CONCERT ORCHESTRA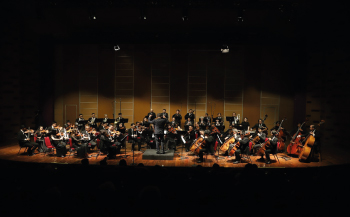 The Jakarta Concert Orchestra (originally Jakarta Chamber Orchestra), one of Indonesia's finest orchestras, was established in 2002 by Avip Priatna and Dr. Toety Heraty Roosseno. Jakarta Concert Orchestra carries an educational role, to develop and improve the Indonesians' appreciation of classical music.

Since 2010, JCO has been performing works by various classical composers through its annual classical concert series. Some of the concert titles are From Russia with Love in 2012, Carl Loewe & Mendelssohn Night in 2019, Malam Tchaikovsky in 2020, Beethoven Forever in 2021, and many more. With the BMS, JCO also plays opera works, such as Cavalleria Rusticana in 2005, and Carmen in 2016. In addition, JCO also produce concerts in various themes and genres. Some of the examples are A Tribute to the Beatles in 2010, Love of My Life (a tribute to the legendary band Queen) in 2015, From Korea with Love (Kpop, Korean folksongs) in 2021 and some others.

JCO members are all professional musicians and have come from different cities in Indonesia. For the past 20 years, JCO has been the home where they can stay sharp and hone their individual skills whilst performing with their fellow friends. With a focus on symphonic music, both orchestra and vocal, JCO has also expanded in bridging and being the presenter of various Indonesian music gems composed by our own Indonesian composers. Since 2010, JCO holds concert series namely "Simfoni Untuk Bangsa" which presents works by Indonesian composers from many eras. Some of these concert titles are "100 tahun Ismail Marzuki", "80 tahun Mochtar Embut", "Musik Film Indonesia", "Elfa Secoria", and many more.

AVIP PRIATNA, Conductor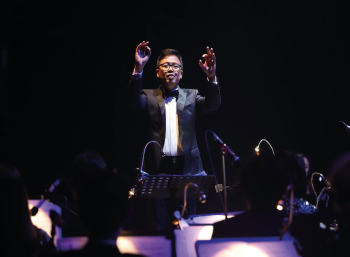 Avip Priatna Mag. art. is Indonesia's prominent conductor. He regularly tours around the world with his choir, the Batavia Madrigal Singers and the Resonanz Children's Choir for concerts and competitions, and have taken them to win, for two times, one of the hardest and most competitive choral competition leagues ever known, the European Grand Prix for Choral Singing.

He studied conducting at the University of Music and Performing Arts in Vienna, Austria under the guidance of Leopold Hager and Prof. Gunther Theuring. For more than twenty years, Avip has been successfully founded, running and expanding music communities and directing them with high artistic standards. They are the Jakarta Concert Orchestra, the Batavia Madrigal Singers and the Resonanz Children's Choir which are all based in his music centre in Jakarta, the Resonanz Music Studio.

He travels to many parts of the world as one of the judges for choral competitions and also collaborates with some of the world's respected musicians. One of these collaborations includes directing the Orchestra Ensemble Kanazawa, Japan and releasing an album with them under the label of Warner Classic Japan.

In 2020, Avip Priatna was chosen as one of the honorary members of the Associazione Nazionale Direttori di Coro Italiani (ANDCI) – the Italian National Association of the Choir Conductors. Besides Avip Priatna, the other members, among others, are John Rutter (UK) and Eric Whitacre (USA).

His works have also been recognized by the nation's leaders. In 2015, he received Cultural Appreciation from the Indonesian Ministry of Education and Culture in the "Pencipta, Pelopor dan Pembaru" (Creator, Pioneer and Reformer) category. And recently in July 2021, he received 'Decoration of Honor', a national award given by the Republic of Austria.

BATAVIA MADRIGAL SINGERS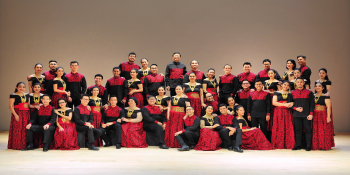 Batavia Madrigal Singers, winner of the 2022 European Grand Prix for Choral Singing, is one of the world's finest vocal ensembles, based in Jakarta, Indonesia. Founded and directed by Avip Priatna in 1996, BMS has been performing choral works of various genres, styles and level-of-difficulties with high artistic standards.

For more than twenty years, the BMS has been touring internationally for competitions, festivals and performance invitations. During that time, the BMS has successfully won awards, first prizes and grand prizes from many prestigious international choral competitions. They are the 57th International Contest of Habaneras and Polyphony (Spain, 2011), the 50th anniversary of the Tolosa Choral Contest (Spain, 2018), 2019 Florilège Vocal de Tours (France), 2016 and 2019 Tolosa Choral Contest (Spain), and the 2012 International May Choir Competition 'Prof. Georgi Dimitrov' (Bulgaria) and many more.

BMS often invited to perform at international festivals. Some of them were held in France, Taiwan, Italy, and China. The most recent one was the International Choral Festival in Missoula, USA. BMS has also appeared in collaborative performances with many professional orchestras, such as the Macao Orchestra (China), the Orchestra Ensemble Kanazawa (Japan), and the Internationale Ensemble Modern Akademie and Südwestdeutsche Philharmonie Konstanz (Germany).

In Jakarta, BMS performs regularly and also made collaborative performances with the orchestra in residence, the Jakarta Concert Orchestra. Of all those performances, the most notable ones are the production of the opera 'Samson et Dalila' by Camille Saint-Saëns in 2006 and opera 'Carmen' by Georges Bizet in 2016.
Price Details
(Excludes Booking Fee)
Booking Fee Charges (Physical Events)
S$4 Booking Fee per ticket for tickets priced above S$40.00;
S$3 Booking Fee per ticket for tickets priced between S$20.01 - S$40.00,
S$1 Booking Fee per ticket for tickets priced under S$20.00
Booking Fee Charges (Live Stream Events)
S$4 Booking Fee per ticket for tickets priced above S$40.00;
S$3 Booking Fee per ticket for tickets priced between S$20.01 - S$40.00
S$1 Booking Fee per ticket for tickets priced between S$10.01 - S$20.00,
S$0.50 Booking Fee per ticket for tickets priced under $10.00
Standard: S$88, S$68, S$48, S$38, S$28, S$18
Esplanade Box: S$88
Premier Box: S$88
Restricted View: S$68, S$28, S$18