In Memoriam: A Tribute to Adrian Tan [G]
by Braddell Heights CCMC
Sun, 11 Sep 2022 7.30pm

Seat Map
S$15
In Memoriam: A Tribute to Adrian Tan [G]
Sun, 11 Sep 2022 7.30pm

S$15
Taiwanese conductor Apo Hsu returns to lead Braddell Heights Symphony Orchestra as it pays tribute to its late Music Director, Adrian Tan. The concert opens with Beethoven's iconic and monumental Fifth Symphony. The programme also includes the world-premiere of a work, dedicated to Adrian, by local composers Low Shao Suan and Low Shao Ying, the Andante from Brahm's second piano concerto with soloist Albert Tiu, and Dick Lee's evergreen "Home", featuring The Joy Chorale.
Start Sales Date
Internet & Mobile:
2 Aug 2022, 9am

Other Channels:
2 Aug 2022, 10am
---
Language
English
---
Duration
Approximately 2 hours with a 20 minutes interval
Rating / Age Limit
Rating: General [G]
No admission for infants in arms and children below 3 years old.
Children 3 years and above must purchase ticket for entry Admission is subject to tickets produced at the entrance.
Late Seating Advisory
You are strongly advised to be seated before the performance start time.
Latecomers will be admitted during suitable breaks, if any.
Exceptions may be made at Esplanade's discretion depending on the nature of the performance.
Photography / Video Recording Rules
No flash photography, unauthorised professional photography, video and audio recording is allowed for this event.
Please note that photographs and videos of patrons may be taken at this event for use in our archival and publicity material.
Help Us Keep Everyone Safe
Keep your mask on and practice good personal hygiene.
Use the hand sanitiser provided around the centre and in the performance venues.
Strictly no food & beverage allowed in the performance venues.
Esplanade reserves the right not to admit patrons who do not comply with prevailing safe management measures.
Stay at home if you're unwell
ADVISORY
All patrons need to be fully vaccinated against COVID-19. Mask-wearing is required for all indoor events.
Biography: Braddell Heights Symphony Orchestra & The Joy Chorale
Braddell Heights Symphony Orchestra & The Joy Chorale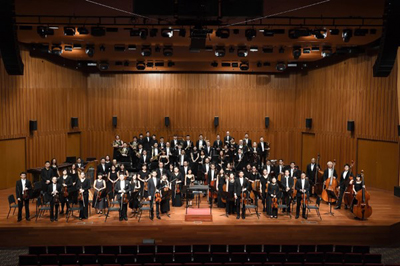 The Braddell Heights Symphony Orchestra (BHSO) is one of Singapore's most prominent community orchestras. Founded in 1986 under the auspices of the Braddell Heights Community Club, the BHSO has been home to countless local and expatriate amateur musicians living in Singapore who come from all walks of life, bonded by their love of classical music and performing in an orchestra.

From humble beginnings with only a handful of members, the BHSO grew steadily into a full-sized symphony orchestra with an active rehearsal and performance schedule under the leadership of Maestro Yan Yin Wing during his 25-year tenure as Music Director. In 2012, the baton was passed on to the late Singaporean conductor Adrian Tan who brought with him innovative ideas that revitalised the orchestra and its role in the community. The formation of The Joy Chorale (TJC) under the direction of Khor Ai Ming was significant in providing opportunities for aspiring singers with little or no training to perform in concerts alongside experienced choristers.

In 2015, the new BHSO-TJC partnership made its debut with a performance of Beethoven's Ninth Symphony which was received with enthusiastic cheers and a standing ovation from a sold-out audience at the Esplanade Concert Hall. The musicians' journey from the start of rehearsals to its conclusion in the performance of the milestone concert truly captured the joy and spirit of community music and became the subject of the documentary 'There is music in every one of us'. The documentary was televised on Mediacorp's okto channel and remains available for viewing online via Toggle. Today, with an active membership of over 160 orchestral musicians and choristers. the BHSO presents a year-long concert season consisting of four orchestral concerts along with chamber music recitals, music education programs and audience outreach activities.

The BHSO is grateful for the regular guidance and generosity of two distinguished artists, Shan Yew who leads the orchestra as concertmaster and Maestro Tsung Yeh who serves as Artistic Advisor. Over the years, the orchestra had the privilege of collaborating with many world renowned artists like Helen Quach (Vietnam), Paul Banda (Hungary), Albert Tiu (Philippines/Singapore), Lim Yan (Singapore) and Apo Hsu (Taiwan). Many of Singapore's emerging artists, including pianist Clarence Lee, violinist Gabriel Ng, classical guitarist Kevin Loh and trumpeter Lau Wen Rong have performed as soloists with the orchestra. Regular platforms available to aspiring musicians include the "Gifted Young Musicians" concerts first initiated in 1997 to showcase local child prodigies and the ongoing masterclasses for aspiring orchestral conductors.

As a community orchestra with the vision of expanding its outreach to a wide audience with diverse tastes, the BHSO's repertoire not only includes symphonic, choral and chamber music from the baroque to modern era, but also covers a variety of genres from film music to jazz. As a strong advocate of local music, the orchestra regularly features Singaporean composers in its concert programs. It actively commissions new works and had given world premiere performances of compositions by Americ Goh, Bernard Tan, Low Shao Ying & Low Shao Suan and John Sharpley. In celebration of SG50, the BHSO paid tribute to Singapore's pioneer composer, Leong Yoon Pin, with a revival performance of his Second Symphony, a seminal work for chorus and orchestra that has not been heard in its entirety since 1979. The orchestra and its resident arranger Mohd Rasull received the recognition of the family and estate of Leong Yoon Pin for their work in compiling a new performance edition of Symphony No. 2 from incomplete handwritten manuscripts, making it readily available for future study and performances.

The BHSO is an orchestra of the community and for the community, with its vision "music for everyone" being reflective of its aspiration for inclusiveness and its commitment to making good music accessible for the enjoyment of all, regardless of background or circumstances.
Apo Hsu
Conductor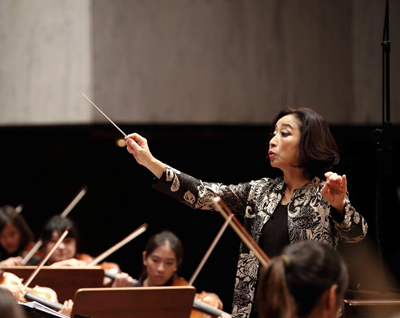 "She generates electricity from the podium in two directions: into the orchestra and into the audience." — The Oregonian

"A strikingly charismatic stage presence." — SF Chronicle

(Apo) Ching-Hsin Hsu, conductor, has served as the Artistic Director and Conductor to The Women's Philharmonic in San Francisco, Music Director and Conductor of the Springfield Symphony in Missouri, Music Director with the Oregon Mozart Players and Affiliate Artist/National Endowment for the Arts Assistant Conductor with the Oregon Symphony. Guest appearances have taken Ms. Hsu to the Americas, Asia and Russia.

In her role as Artistic Director and Conductor of The Women's Philharmonic from 1997-2001, they toured Brazil in 2001; for recordings, they released a compact disc that features the symphonic music of African American composer Florence Price.

Ms. Hsu received her Bachelor of Arts in Piano from the National Taiwan Normal University while also studying the Doublebass. Her graduate study was at the Hartt School of Music in CT, with the renowned double bassist Maestro Gary Karr for Masters of Music, and an Artist Diploma in Conducting with Maestro Charles Bruck. Ms. Hsu has worked closely with Maestri James DePreist, Murry Sidlin and Harold Farberman, and attended the Pierre Monteaux Domaine School for Advanced Conductors, the Conductor's Institute and the Aspen Music Festival.

Ms. Hsu has served on the faculty for both the American Symphony Orchestra League Conducting Workshops and National Youth Orchestra Festival, and as a guest conductor at various US state's annual music educators' All State Conferences. She has served as a Music Review Panelist for the National Endowment for the Arts (US), the National National Chiang Kai-Shek Cultural Center (Taiwan) and the SYF Arts Presentation (Singapore). Ms. Hsu has served on the faculty at The Conductor's Institute at Bard College (NY), the Miami Music Festival (FL) and at the Cincinnati Conservatory of Music (OH). Ms. Hsu is on the faculty at the National Taiwan Normal University in Taipei and enjoys seeing many of her conducting pupils succeed in the professional and educational fields.
Albert Tiu
Piano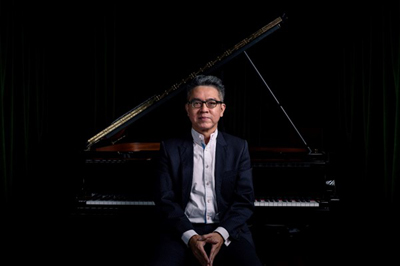 Born in Cebu, Philippines, Albert Tiu has been called "an artist of uncommon abilities" by American Record Guide. His Centaur recording, "Grand Russian", pairing Tchaikovsky's Grand Sonata and Rachmaninoff's First Sonata, was cited in ARG: "Even with some legendary competition in this repertoire, Tiu stands tall with his interpretations and technical accomplishment." Another disc, "The Classical Elements", featuring twenty pieces grouped under Earth, Air, Water and Fire, was rated 5 Stars in International Piano and praised by Fanfare for a "fascinating recital containing some stunning playing."

Recently promoted to Head of Piano Studies at the Yong Siew Toh Conservatory of Music, National University of Singapore, Professor Tiu is a prizewinner of competitions in Calgary (Honens), Santander (Paloma O'Shea) and Helsinki (Maj Lind). In 1996, he won First Prize, as well as special prizes for Best Mozart Concerto and Best Piano Concerto, in the UNISA International Piano Competition in Pretoria, South Africa.

Besides past performances with the St. Petersburg Philharmonic, Hamburg Symphony, Finnish Radio Symphony, Gstaad Festival Orchestra, Calgary Philharmonic, Winnipeg Symphony, Philippine Philharmonic, Saigon Philharmonic, and Orchestra of the Music Makers, he frequently collaborated with Adrian Tan and the Braddell Heights Symphony Orchestra in recent times. In 2005, he gave the Singapore premiere of Samuel Barber's Piano Concerto with the Singapore Symphony.

Tiu studied with Jerome Lowenthal at the Juilliard School, with Michael Lewin at the Boston Conservatory, with John Winther in Hong Kong, and with Nita Abrogar-Quinto and Nelly Castro in the Philippines.
Price Details
(Excludes Booking Fee)
Please add to above price S$4 Booking Fee per ticket for tickets above S$40; S$3 Booking Fee per ticket for tickets between S$20.01 - S$40, S$1 Booking Fee per ticket for tickets between S$10.01 - $20, and S$0.50 Booking Fee per ticket for tickets between $0.01 - $10. Charges include GST where applicable.
Standard: S$15
Esplanade Box: S$15
Premier Box: S$15
Restricted View: S$15
10% Child (3 - 12 years old) / Senior Citizen (aged 55 years old and above) / Students (Local & Overseas)
Verification: Present valid ID, Full-Time students with valid student pass / Senior Citizen with valid senior citizen pass
Please note that random checks on concession tickets will be conducted at the point of entry
Patrons unable to present proof of eligibility are required to upgrade their concession tickets to full price tickets
Valid from 2 Aug 2022 onwards
Verification: Key/Quote valid password upon purchase
Valid from 2 Aug 2022 onwards
Verification: Key/Quote valid password upon purchase
Valid from 2 Aug 2022 onwards