the mrbrown show LIVE!
by Singapore International Festival of Arts 2020
Fri, 25 Dec - Sun, 27 Dec 2020

Seat Map
S$20 - S$50
Event is over!
This event has ended and no longer available for booking.
From the blogfather of Singapore, the mrbrown show is beloved for its biting satire and quintessentially Singaporean humour. After twenty years of coming to you via the Internet, catch mrbrown in a never-seen-before concert at SIFA v2.020, as the comedian launches his debut music album.
Directed by music producer James Lye and backed by a rollicking live band, mrbrown will take the stage to sing and act together with his favourite collaborators, blogger Mr Miyagi and local poet Marc Nair, in the mrbrown show LIVE!
Some of mrbrown's classic podcasts will be ...
More
Public Sales
Internet:
5 Nov 2020, 10.00am
---
Language
English
---
Duration
Approximately 1 hr 30 mins, no intermission
In venue performance at KC Arts Centre:
Measures will be taken to ensure the health and safety of all patrons at KC Arts Centre.

This includes wearing a mask at all times for both staff and patrons, temperature taking, SafeEntry logging and observance of social distancing around the theatre. For more information please refer to the section on Important Safety Measures.

KC Arts Centre - Home of SRT is SG Clean certified. The cleaning and disinfection of the theatre will take place before and after all performances, including coating of the Theatre with Antimicrobial Shield.

Please be reminded to bring along your smart device for QR code scanning and e-ticket verification.


Live Stream:
Each unique e-ticket allows the ticket holder to view the live stream video during the actual performance on 27 Dec, Sun 3pm.
As this event will be streamed live, e-ticket holders will not be able to playback the video.
The e-ticket holder may not share their e-ticket link. Online viewing parties and sharing the video(s) via streaming apps are not permitted.
E-ticket holders are responsible for all Internet access costs and landline costs. It is expected that the data usage will increase due to the live stream. SIFA recommends using a stable and high-speed internet connection (Wi-Fi etc.) to enhance the quality of the holder's viewing experience.
The copyright of the video for live streaming distribution and recorded distribution belongs to Arts House Limited. Viewers are not allowed to use or record any contents (video, image, audio, or other copyrighted materials) without permission from Arts House Limited.
SISTIC and SIFA will do our very best to prepare for high-quality live streaming performances. However, due to the nature of live streaming on the Internet, there may be temporary pausing and/ or disruptions caused by unexpected technical problems.
SISTIC and SIFA are not liable for any viewing or browsing problems caused by the e-ticket holder's internet connection or technical hardware or software issues or any cause beyond the control of SISTIC and SIFA.
Rating / Age Limit
Rating: Advisory (Some Mature Content)
Contains mild coarse language and socio-political references.

Admission is subject to tickets produced at the entrance
No admission for infants-in-arms
Admission for audience age 6 years and above

Late Seating/ Re-entry Advisory
Late arrival or Re-entry may result in non-admittance until a suitable break in the performance

Photography / Video Recording Rules
No Photography, video recording or audio recording is permitted for this event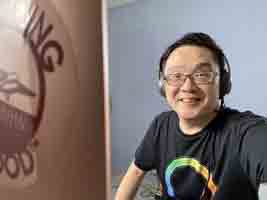 mrbrown (Lee Kin Mun) is the Blogfather of Singapore and the accidental author of mrbrown.com, who has been documenting the dysfunctional side of Singapore life since 1997.
He is known for his humorous yet biting socio-political commentary on Singapore, and satirical sketches on current events which feature a host of quirky characters, like Kim Huat, Singapore's Number One Fan. He also produces the popular podcast "the mrbrown show".
mrbrown is husband to the long-suffering mrsbrown, and is the Papa of Faith, Isaac & Joy. His firstborn, Faith, has autism.
Besides being a satirist, writer, podcaster, and maker of silly videos, he is also an avid traveler and photographer. He loves gadgets, film cameras, bicycles, and long walks on the beach.
Oh, he also occasionally sings.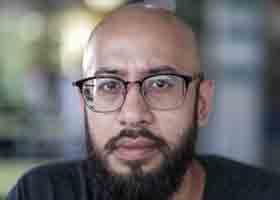 Marc Nair
Marc Nair is a poet and photographer who works at the intersection of various art forms. He is currently pursuing projects that involve photography, movement and creative non-fiction. His work revolves around the ironies and idiosyncrasies of everyday life.
Marc is a recipient of the 2016 Young Artist Award. He has performed spoken word in solo and group performances for fifteen years in more than ten countries and has represented Singapore in international poetry slam competitions. Marc has published six solo volumes of poetry and has released another four books in collaboration with visual artists, photographers and graphic artists. His latest collection of poetry is Sightlines. Marc is the co-founder of Mackerel, a culture magazine. He has released two spoken word albums with his band, Neon and Wonder, and has been working with Lee Kin Mun, aka mrbrown, on the mrbrown show for over fifteen years, writing satirical audio and video sketches and songs. He is a PhD candidate at RMIT University.
Photo by Daniel Tan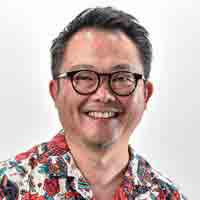 Benjamin "Mr Miyagi" Lee
Benjamin has been writing comedy since his parents asked him one day if he was "trying to be funny is it?" He has since written over 30 stage productions, one comic book, many television and audio skits.
He is proud to be a founding cast member of the mrbrown show, (and an even prouder of being the lead contributor to its library of outtakes).
Price Details
(Excludes Booking Fee)
Please add to above price S$4 Booking Fee per ticket for tickets above S$40; S$3 Booking Fee per ticket for tickets between S$20.01 - S$40 and S$1 Booking Fee per ticket for tickets S$20 and below. Charges include GST where applicable.
S$50 (In-venue)
Pay as you wish: S$20, S$25, S$30 (Live Stream)