by STPI - Creative Workshop & Gallery
Fri, 22 Jan - Sun, 31 Jan 2021
Event is over!
This event has ended and no longer available for booking.
S.E.A. Focus Curated is an immersive, physical showcase in Tanjong Pagar Distripark where works of art from participating galleries are presented in a space designed by architect Randy Chan of Zarch Collaboratives. The showcase eschews the usual layout of art fair booths for an open, fluid exhibition. The show, titled hyper–horizon, is a response to the waves of change and possibility seizing Southeast Asia as it seeks to spur urgent focus on the place and vitality of art in testing times. The bold, non-conventional presentation aims to spark new connections between works of art from Southe...
More
Start Sales Date
Internet:
5 Jan 2021, 9am
---
Duration
Full Day: 1pm - 8pm
S.E.A. Focus is a showcase of contemporary art from Southeast Asia. It aims to bring together a curated selection of some of the finest galleries to foster a deeper appreciation of contemporary art and artists in the region. A meeting point for artistic vision and vigour, S.E.A. Focus provides a platform to propel diverse cultural exchanges which celebrate, promote and provoke dialogue about Southeast Asian art. S.E.A. Focus is an initiative led by STPI – Creative Workshop & Gallery, supported by the National Arts Council, Singapore. Returning in January 2021, the edition melds the complementary formats of S.E.A. Focus Digital and S.E.A. Focus Curated.
Rating/Age Limit
Free admission for Infants in arms or children below the age of 7.
Children above 7 years must purchase ticket for admission.
Admission is subject to tickets produced at the entrance.

The health and safety of our visitors and colleagues remains our priority. To ensure you feel secure and comfortable at all times, we are closely following the government's health guidelines throughout our venue.

In line with current government advisories, there will be a capacity limit into the exhibition space. We appreciate your understanding that there may be some queuing time. We recommend you to come during off-peak hours.

With your cooperation, we will be implementing the following safety measures:
All visitors, regardless of age, must have a ticket for admission
Temperature taking is required before entry into the theatre. Our front of house staff will be on site to assist with this.
SafeEntry/TraceTogether is required for entry, as this is necessary for any contact-tracing procedures, if required. This will be subjected to change, based on government advisory.
To minimise contact, there will be no physical copies of the catalogue, exhibition map and tickets.
Please keep your face mask on at all times and maintain at least a one metre distance from other patrons.
Please feel free to use the hand sanitisers available around the venue.
General Visitor Information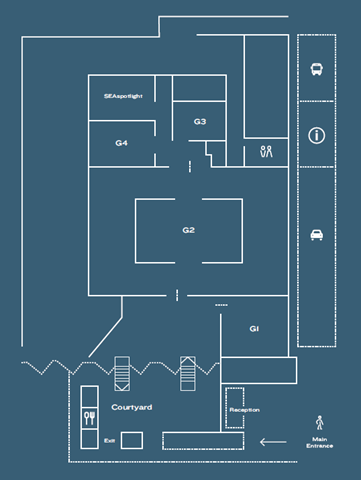 Nearest Washrooms:
Washrooms are available at the back of the building. More bathrooms can be found on level 2 and 3.

Transportation Routes:

Car
Tanjong Pagar Distripark is accessible via Keppel Road.

MRT
The nearest station is Tanjong Pagar MRT Station.

Bus
The nearest bus stop is along Keppel Rad 'Opp Former Railway Station' (Bus Stop No. 14061)

Available Buses: 10,30,57,80,97,97e,100,131,145

Upon alighting, turn right and walk straight. There will be a small gate on your left to enter Tanjong Pagar Distripark. Entrance to S.E.A Focus is on the other side of the building, facing the port.

Shuttle Bus
Half hourly transfer for two-way transfer from 3 pick-up points, with 1 bus per venue per timing.

Fridays and Saturdays (22,23,29 and 30 January 2021): 11am to 8.30pm
Sundays: (24 and 31 January 2021): 11am to 5.30pm

The 3 pick-up points are:
Harbourfront MRT
Gilman Barracks (Blk 9)
Tanjong Pagar Distripark

Pickup/ Dropoff Point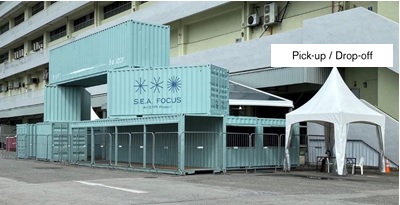 F&B Options
SF Courtyard - PPP Coffee
Vending machines near the toilets on level 1
Price Details
(Excludes Booking Fee)
Please add to above price S$4 Booking Fee per ticket for tickets above S$40; S$3 Booking Fee per ticket for tickets between S$20.01 - S$40, S$1 Booking Fee per ticket for tickets between S$10.01 - $20, and S$0.50 Booking Fee per ticket for tickets between $0.01 - $10. Charges include GST where applicable.
Standard: S$10
Free admission for students and child age below 7 years old