Kris Foundation presents Die dunkelrosa Rose
by Kris Foundation
Fri & Sat, 20 & 21 Aug 2021

Seat Map
S$35
Kris Foundation presents Die dunkelrosa Rose
Fri & Sat, 20 & 21 Aug 2021

S$35
Kris Foundation presents Die dunkelrosa Rose with pianist Azariah Tan and violinist Shuxiang Yang.

Azariah Tan, piano
Shuxiang Yang, violin

20 August (Azariah Tan) | Programme:

F. Chopin: Sonata No.3 in B Minor Op.58
F. Schubert: Sonata in A major, D. 959

21 August (Shuxiang Yang) | Programme

P. Hindemith: Violin Sonata, Op.11 No.1
F. Schubert: Violin Sonata in A Major, D.574 "Grand Duo"
R. Strauss: Violin Sonata in E-flat major, Op. 18

More
Start Sales Date
Internet
24 Jun 2021, 9am

Other Channels
24 Jun 2021, 10am
---
Duration
Approximately 2 Hours (no intermission)
---
Language
Rating / Age Limit
No admission for infants in arms and children below 6 years old
Children 6 years and above must purchase ticket for entry
Admission is subject to tickets produced at the entrance
Photography / Video Recording Rules
No Photography, Video recording and Audio recording is permitted for this event
​​Late Seating Advisory
For the enjoyment of all audience members, all events start promptly at the time printed on the ticket.
Please be seated 15 minutes before the performance start time.
Late arrival may result in non-admittance until a suitable break in the performance or during interval.
Advisory
Mask to be worn at all time during performance by audience.
Audience will not be permitted to change their seats from their assigned seat number or mingle with artiste after the show.
At Theatre Venue, Mandatory Trace Together App or device must be activated together with venue check-in app by all audience. (TT gadget can be collected at venue especially for matured audience)
There will be No Interval for these shows.
Azariah Tan, piano

Azariah Tan received a Doctor in Musical Arts in Piano Performance from the University of Michigan, under the guidance of Dr. Logan Skelton. The National Arts Council-Conservatory scholar was also a Dean's lister at the Yong Siew Toh Conservatory where he graduated with first-class honors from his Bachelor of Music studies with Albert Tiu. He went on to study at the University of Michigan, receiving two Master of Music degrees in Piano Performance and Chamber Music, as well as being nominated to represent the piano department for the Earl V. Moore School of Music Award.

Azariah is a first-prize winner at several national as well as international piano competitions. More recently, he won the first prize for both the Solo and Concerto categories at the American Prize, the Laureate title at the WPTA International Piano Competition as well as two top prizes at The American Protégé International Concerto Competition.

As an educator, he has conducted lecture-recitals at conferences both locally and internationally, where he has appeared as guest artist and speaker. He has also taught on the piano faculty of Bluelake Fine Arts Camp in Muskegon, Michigan and regularly holds masterclasses at music institutions and colleges. He has also been an examiner for students preparing for the O level Music Examinations and is a certified Faber Method Piano Clinician.

Azariah has been a recipient of many awards, such as the VSArts International Young Soloists Award in Washington DC; the NUS Outstanding Young Alumni Award; the NUS Society Medal for Outstanding All-Round Achievements; the NUS Outstanding Student Achievement Award; as well as full-scholarships from the University of Michigan, the National Arts Council of Singapore, and the Yamaha Music Foundation of Japan.

Fellowship awards – such as the Paul Abisheganaden Grant as well as the RNCM James Mottram Grant– have enabled his participation at well-known music festivals such as the Kirishima International Music Festival, Gilmore International Keyboard Festival and Piano Texas Festival. These fellowships have also extended him the opportunity to work in masterclasses with eminent pianists with the likes of Murray Perahia, Dang Thai Son, Fou Ts'ong and others.

Azariah has been extensively featured on international TV, radio and in printed, as well as national news media, including internet video coverage and the Voice of America. He has performed in the USA at venues such as the Kennedy Center and Carnegie Hall as well as internationally, in Europe, Japan and South-East Asia, and has appeared in concerto performances with the Singapore Symphony Orchestra, Polish Silesian Philharmonic, and others.

Azariah feels deep gratitude for the opportunities that life has offered him and gives back by performing at events to raise funds for charity organizations. In 2014, he was named Honoree at the Ten Outstanding Young People (TOYP) Singapore, as well as a finalist in 2017 for the Singapore Youth Award, the nation's highest youth accolade, in recognition of the inspirational role he exemplifies.

www.azariahtan.com

Shuxiang Yang, violin

Well-loved for his powerful and charismatic musical presence, Singaporean violinist Shuxiang Yang sustains an impressive portfolio career spanning performance, academia, education, and arts management.

A passionate soloist and chamber musician, Yang has concertised in Asia, North America, Europe, and Australasia—at venues ranging from Singapore's Esplanade and Victoria concert halls to the iconic Museo del Violino in Cremona. Solo appearances include concerti with the Singapore Symphony Orchestra, Singapore National Youth Orchestra, NUS Chinese Orchestra, and The Chamber Players. He has also been featured in prominent festivals such as the Singapore International Festival of Arts, Macao Arts Festival, and Perlman Music Program. In 2012, Yang was specially praised for his memorable performance at the President's Young Performers concert:

"[Yang] gave arguably the finest solo performance in the history of the President's concert series. … Seldom has there been a performance of such intensity, … one that grabbed the listener by the lapels and never let go."
— Straits Times

Beyond the Western canon, Yang is fascinated by the seemingly endless possibilities of the avant-garde. Explorations along this frontier include a new genre-bending adventure with Tangent Moves, and collaborations with Singaporean composers Koh Cheng Jin, Phoon Yu, and Jonathan Shin.

Yang's unique musical voice took shape under the guidance of esteemed professors Donald Weilerstein, Qian Zhou, Almita Vamos, Roland Vamos, and Victor Danchenko. Also influential were his beloved pre-college teachers Sylvia Khoo and Lynette Lim, who kindled his ardent love for music and inspired him to pursue his dreams.

Yang was a recipient of the prestigious Loke Cheng-Kim Foundation Scholarship, and a prizewinner at the Hong Kong International Violin Competition, Cremona International Competition for Strings, and Atlantic Symphony Concerto Competition. He holds degrees in music from the New England Conservatory (M.M.), Yong Siew Toh Conservatory (G.D.), Northwestern University (B.M.), and is currently completing his Doctor of Musical Arts candidacy at NEC.

In addition to performing, Yang teaches violin and chamber music at Singapore's national arts high school: School of the Arts. He has previously served as teaching assistant to Prof. Donald Weilerstein, and taught at the Boston Music Institute and Collaborative Piano Camp Thailand. Yang concurrently manages the Singapore International Violin Competition.

www.shuxiangyang.com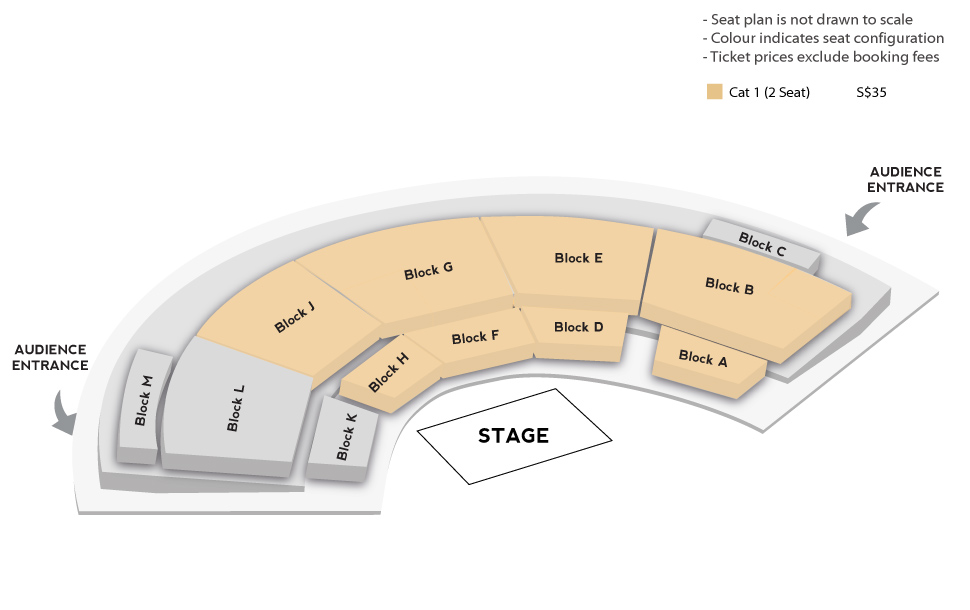 Price Details
(Excludes Booking Fee)
Please add to above price S$4 Booking Fee per ticket for tickets above S$40; S$3 Booking Fee per ticket for tickets between S$20.01 - S$40, S$1 Booking Fee per ticket for tickets between S$10.01 - $20, and S$0.50 Booking Fee per ticket for tickets between $0.01 - $10. Charges include GST where applicable.