Raga
Aathi Antham Illai - Journey through Numbers
by Omkar Arts
by The Esplanade Co Ltd
Fri, 15 Jan - Sun, 17 Jan 2021

Seat Map
S$25
Event is over!
This event has ended and no longer available for booking.
Numbers are significant in day-to-day life and in scientific and spiritual spheres. Aathi Antham Illai, which means "no beginning and no end", explores the myriad possibilities that numbers represent for evolutionary pathways that reveal the soul's true nature. Using the dance form bharatanatyam, each dance piece unfolds the meaning behind numbers 0 to 9 through specific concepts. Developed from the Dance India Asia Pacific mentorship with Rama Vaidyanathan and music composed by Sudha Raghuraman, the work depicts the journey towards self-knowledge and the ultimate...
More
Start Sales Date
Internet:
21 Dec 2020, 9am
---
Duration
Approximately 1 hour 30 minutes
Admission Rules of Esplanade:
Rating/Age Limit
Admission is subject to tickets produced at the entrance.
Infants in arms or children below the age of 6 shall not be admitted.
Children above 6 years must purchase ticket for admission.
Late Seating Advisory
You are strongly advised to be seated before the performance start time.
No admission will be allowed into the venue once the performance has commenced.
Exceptions may be made at Esplanade's discretion depending on the nature of the performance.
Photography/Video Recording Rules
No Photography, Video recording and Audio recording is allowed for this event.
Please note that photographs and videos of patrons may be taken at this event for use in our archival and publicity material.
With the support of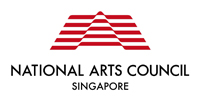 Price Details
(Excludes Booking Fee)
Please add to above price S$4 Booking Fee per ticket for tickets above S$40; S$3 Booking Fee per ticket for tickets between S$20.01 - S$40 and S$1 Booking Fee per ticket for tickets S$20 and below. Charges include GST where applicable.
Standard: S$25

Note:
Orange Section: Select 1, 2, 3, 4 or 5 tickets
(Single seats only)

Blue Section: Select 2 or 4 tickets only
(Seats are in pairs only)