Tuesdays with Morrie
by Singapore Repertory Theatre
Sun, 01 Nov - Fri, 11 Dec 2020

Seat Map
S$50 - S$65
Event is over!
This event has ended and no longer available for booking.
Please note that TraceTogether is required for entry into the theatre. Please help us adhere to this guideline so we can remain open. Thank you.

Based on Mitch Albom's best-selling memoir, Tuesdays with Morrie is a play so touching, powerful and celebratory it may change your outlook on life. 
Sixteen years after graduation, career-obsessed journalist Mitch reunites with his former college professor and mentor Morrie, who is battling Lou Gehrig's Disease (ALS). What starts as a simple visit turns into a life-changing weekly pilgrimage – always on T...
More
Start Sales Date
Internet:
6 Oct 2020, 9am

Other Channels (excluding SISTIC Authorised Agents):
6 Oct 2020, 10am
---
Duration
Approximately 1 hour 30 minutes (no intermission)
Rating / Age Limit
Rating: General
All patrons, regardless of age, must purchase a ticket for admission.
All patrons below 16 years old must be accompained by a parent or guardian.
Recommended for ages 12 and up.

Late Seating Advisory
For the enjoyment of all audience members, all events start promptly at the time printed on the ticket.
Please be seated 15 minutes before the performance start time.
Late arrival may result in non-admittance until a suitable break in the performance.

Photography / Video Recording Rules
No Photography, Video recording and Audio recording is allowed for this event.
For more information, please visit https://www.srt.com.sg

For the latest SRT news and to be the first to find out what shows are coming up next, like us on Facebook and follow us on Instagram. To enjoy benefits like complimentary tickets, click here to become a Friend of SRT.
Important Safety Measures
SAFETY MEASURES IN OUR THEATRE
We know you are as excited about the reopening of theatres as we are. However, we seek your help to maintain safety measures required for the health and wellbeing of the community. This is crucial in order for arts venues to remain open in these unprecedented times.

All patrons will receive by email an event reminder with the full list of safety measures implemented at KC Arts Centre – Home of SRT. The event reminder can also be found by clicking here.

We have highlighted some important measures here for your convenience:
Please keep your face mask on at all times and maintain a one metre distance from other patrons.
Please proceed directly to your seat once you enter the theatre. Mingling with other groups is not allowed.
TraceTogether is required for entry. Please collect your token or download the mobile phone application prior to your visit.
Please keep to the staggered arrival timing as indicated in the event reminder.
There will be separate entrances and facilities for patrons depending on where your seats are located.
Patrons seated in the Stall should enter using the Robertson Walk entrance (next to Lucca's Trattoria).
Patrons seated in the Circle should enter using the Merbau Road entrance.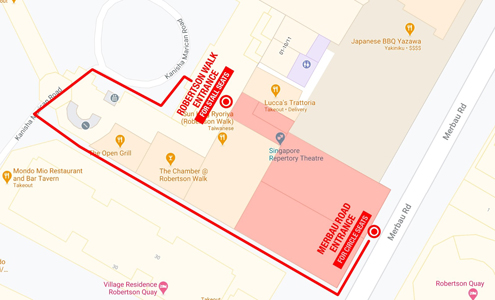 After the performance, audience members will exit the theatre one row at a time.

Apart from the measures above and limiting audience numbers, SRT ensures the cleaning and disinfection of the theatre before and after all performances. We have also coated our theatre with Antimicrobial Shield.

KC Arts Centre – Home of SRT is SG Clean certified


Price Details
(Excludes Booking Fee)
Please add to above price S$4 Booking Fee per ticket for tickets above S$40; S$3 Booking Fee per ticket for tickets between S$20.01 - S$40 and S$1 Booking Fee per ticket for tickets S$20 and below. Charges include GST where applicable.
Preview (1 & 3 Nov) & Sun Matinee shows
Standard: S$50, S$45
Restricted View: $40

(Tue - Thu)
Standard: S$60, S$55
Restricted View: $50

Fri - Sun shows
Standard: S$65, S$60
Restricted View: $55