Lungs by Duncan Macmillan (Advisory 16 - Some Mature Content and Coarse Language)
by Singapore Repertory Theatre
From Mon, 21 Jun 2021

Seat Map
S$45 - S$65
Event is over!
This event has ended and no longer available for booking.
They are an everyday couple in a fairly stable relationship. Out of the blue, he pops the question about having a baby. What follows is an emotional rollercoaster ride that is LUNGS , an intensely intimate, intricate and funny play about what it means to be a couple confronted by a world of uncertainty. They grapple with making responsible choices in the face of rising social inequity, environmental disaster and political unrest. Watch what happens when life takes over and their principles are pushed aside.

Featuring Oon Shu An & Joshua Lim.
Start Sales Date
Internet & Other Channels (excluding SISTIC Authorised Agents):
10 Mar 2021, 10am

---
Duration
Approximately 1 Hour 30 minutes (no intermission)
Rating / Age Limit
Rating: Advisory 16 (Some Mature Content and Coarse Language)

All patrons, regardless of age, must purchase a ticket for admission. All children below 16 years old must be accompanied by a parent or guardian.
Late Seating Advisory:
Latecomers will be admitted at a suitable point.
Photography / Video Recording Rules
No Photography, Video recording and Audio recording is allowed for this event.
Additional Information
There is a glass panel in front of Row AA at the Circle seats section.

Left & Right Circle seats are SINGLE seats in a row.

Please be informed that Balcony (BL and BR) seats at the Circle are restricted view seats
For more information, please visit https://www.srt.com.sg

For the latest SRT news and to be the first to find out what shows are coming up next, like us on Facebook and follow us on Instagram. To enjoy benefits like complimentary tickets, click here to become a Friend of SRT.
Important Safety Measures
SAFETY MEASURES IN OUR THEATRE

All ticket-holders will need to undergo a fast and painless Antigen Rapid Test at the venue which will be provided at no cost to you. Patrons attending the performance 14 days after receiving their second vaccination are exempt from Pre-Event Testing (PET).
Please note that the following safety measures will be in place at the theatre: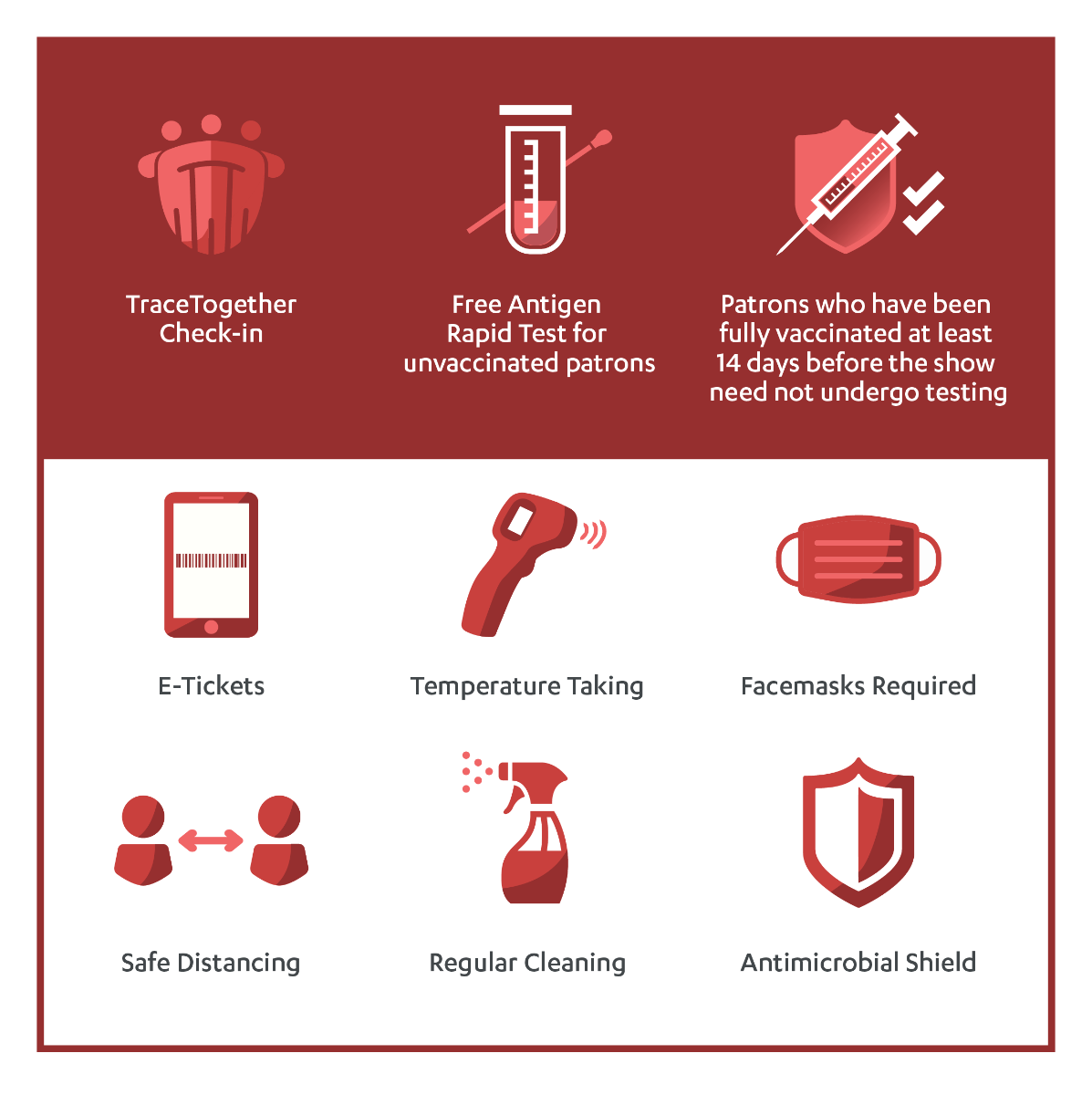 Please also note the following:
Download your e-ticket on your mobile device.
TraceTogether is required for entry into our theatre. Please download the TraceTogether app on your mobile device or collect your token prior to the performance.
Please proceed directly to your seats and avoid mingling with other patrons.
For patrons seated in the Stalls, please enter the theatre and use the toilets at the Robertson Walk courtyard (near Lucca's Trattoria).
For patrons seated in the Circle, please enter the theatre at the Merbau Road entrance and use the toilets at the theatre.
After the performance, audience members will exit the theatre one row at a time. We seek your patience and cooperation in following the instructions of our ushers.




KC Arts Centre – Home of SRT is SG Clean certified



ACCESSIBLE PERFORMANCES
Audio Described Performance: 10 July 2021, 6pm
An Audio Described performance is for patrons who are Blind or Vision Impaired, who require the theatre performance to be described live by a trained Audio Describer. The performance is verbally described and transmitted to the audience members through their own mobile phone device with earphones.
Sign Language Interpreted Performance: 17 July 2021, 6pm
Sign Language Interpreted performances are designed to cater for Deaf or Hard of Hearing patrons. In a signed performance, there will be a trained interpreter, who will be placed in a visible position on or near by the stage. The interpreter will sign all auditory elements of the show using Singapore Sign Language. Seating is allocated for each signed performance to provide an optimal view to both the show and the interpreter.
Please contact SRT's box office at ina@srt.com.sg or 6733 8166 for more information and to purchase tickets for Accessible Performances.
Price Details
(Excludes Booking Fee)
Please add to above price S$4 Booking Fee per ticket for tickets above S$40; S$3 Booking Fee per ticket for tickets between S$20.01 - S$40, S$1 Booking Fee per ticket for tickets between S$10.01 - $20, and S$0.50 Booking Fee per ticket for tickets between $0.01 - $10. Charges include GST where applicable.
Previews (21 Jun):
Stall seating - $50
Circle seating - $45

Mon - Thu, 6pm & 9pm:
Stall seating - $60
Circle seating - $55

Fri & Sat, 6pm & 9pm:
Stall seating - $65
Circle seating - $60