Raga 2022: Śṛṅgāra Nāyikā – Hues of Love
By Omkar Arts (Singapore)
by The Esplanade Co Ltd
Fri, 22 Jul - Sat, 23 Jul 2022

S$30
Raga 2022: Śṛṅgāra Nāyikā – Hues of Love By Omkar Arts (Singapore)
Fri, 22 Jul - Sat, 23 Jul 2022

S$30
Natyashastra is  the text on dramaturgy which  delineates eight emotional states, that the nayikas can go through, which are called the nayika Avasthas. These classifications pertain to the heroine's characterisation, traits and mannerisms in relation to love and their interactions with the nayaka (hero). Other personal and social factors also influence and chart the behaviour of the nayika, which combined, creates a myriad of hues of the heroine in love.

Utilising a unique combination of bharatanatyam, kathak, narration and live singing, this performan...
More
Start Sales Date
Esplanade&Me Priority Booking
Internet:
31 May 2022, 9am

SISTIC Authorised Agents:
31 May 2022, 10am

Esplanade Box Office:
31 May 2022, 12 noon - 6pm

Public Sales
Internet:
1 Jun 2022 onwards, 9am

SISTIC Authorised Agents:
1 Jun 2022, 10am

Esplanade Box Office:
1 Jun 2022, 12 noon - 6pm
---
Duration
Approximately 1 hour 15 mins, no intermission
Admission Rules of Esplanade:
SafeEntry Check-in
All patrons are required to do SafeEntry check-in at the venue via the TraceTogether app (version 2.11 and above) or token only. Other modes of SafeEntry check-in will not be accepted.
Rating/Age Limit
Admission is subject to tickets produced at the entrance.
Infants in arms or children below the age of 6 shall not be admitted.
Children aged 6 years and above must purchase ticket for admission.
Late Seating Advisory
You are strongly advised to be seated before the performance start time.
Latecomers will be admitted during suitable breaks, if any.
Exceptions may be made at Esplanade's discretion depending on the nature of the performance.
Photography/Video Recording Rules
No flash photography, unauthorised professional photography, video and audio recording is allowed for this event.
Please note that photographs and videos of patrons may be taken at this event for use in our archival and publicity material.
Help Us Keep Everyone Safe
Maintain safe distancing between groups.
Keep your mask on and practice good personal hygiene.
Use the hand sanitiser provided around the centre and in the performance venues.
Strictly no food & beverage allowed in the performance venues.
Esplanade reserves the right not to admit patrons who do not comply with prevailing safe management measures.
Stay at home if you're unwell.
About Sreedevy Sivarajasingam

Sreedevy is a renowned dancer and choreographer in Singapore. Trained in Bharathanatyam at the Singapore Indian Fine Arts Society, she is one of the founding members of Omkar Arts, a non-profit Arts organisation. She has performed extensively on TV, various Arts and dance festivals and several stage performances in Singapore, Malaysia, Dubai, Abu Dhabi and Australia.

She performed for " Viswa Prana" at Esplanade commemorating SG50 celebrations.
She has been a choreographer for the kids show at Kala Utsavam in the years 2021, 2019 and 2017. She staged "Aathi Antham Illai" a production which came out of IPAC mentorship in 2021 at the Esplanade Theatres as part of the Raga Series. Her students performed at the Rasa Dans Series in 2018 and 2020. Sreedevy was also mentor for the dance teams that performed in Kala Utsavam outdoor theatre in 2021.

She is also a sought-after choreographer for schools consistently producing stellar results at nationwide dance competitions and has been a performer and choreographer on the Tamil media in Singapore for the past 30 years. Formerly a TV producer with Vasantham, she had been the resident judge for a local dance competition on TV for over 10 years. She had also judged a dance competition on Malaysia's Astro Channel.

Sreedevy now runs her own dance school, and her students and company dancers perform widely at community events.

About Ponnamma Devaiah

Dancer and choreographer Ponnamma Devaiah hails from Bangalore, India. She has had 25 years of training in bharatanatyam under Guru Smt Minal prabhu in the kalakshetra style and her legendary Guru, Dr Maya Rao, trained her for 12 years in both Lucknow and Jaipur Gharanas of kathak.

Being a professional dancer, she has performed all over India in prestigious festivals and travelled around the world. She was the Principal of the only choreography college of India for two years and also served as the Assistant Director of the Stem Dance Kampni, Bangalore. She is also trained in few folk dances of India and martial arts like thang tha and kalaripayatu.

She moved to Singapore in 2014 and since then she has been performing constantly and creating collaborative works with other artists. Her performances include Esplanade's Kalaa Utsavam from 2014 to 2016 and 2018 to 2019 as part of their children's production, as well as in the Raga series and da:ns festival. She has been working consistently as a dancer-choreographer to understand the relationship between kathak and flamenco better through performances like journey of time by Flamenco Sin Fronteras and Anthar Agni by Temple of Fine Arts, Singapore. Ponnamma has been designing lights and Creating dance choreography to suit theatre productions. She was the official lighting designer for Dastak Hindi festival for four years.

Esplanade's Kalaa Utsavam – Indian Festival of Arts turned 20 years in 2021, and Ponnamma had the privilege of choreographing and dancing in the inaugural dance of the festival. She was also one of the mentors in the dance mentorship program presented as part of the Kalaa Utsavam festival 2021.
Please note that several roads around Esplanade – Theatres on the Bay will be closed every Saturday from 2 – 23 July, due to the rehearsals for National Day Parade 2022.

As traffic congestion is expected and the road closures may cause significant delays, patrons are advised to arrive with a comfortable lead time on the day and to please use public transport to access Esplanade. Please visit https://www.ndp.gov.sg/ndp-at-the-float/advisories for more information.
All patrons (except for children aged 12 and below) need to be fully vaccinated against COVID-19. Mask-wearing is required for all indoor events.
Supported by High Commission of India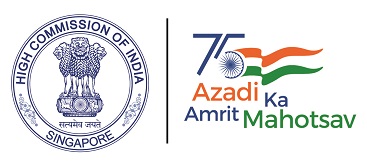 Price Details
(Excludes Booking Fee)
Please add to above price S$4 Booking Fee per ticket for tickets above S$40; S$3 Booking Fee per ticket for tickets between S$20.01 - S$40, S$1 Booking Fee per ticket for tickets between S$10.01 - $20, and S$0.50 Booking Fee per ticket for tickets between $0.01 - $10. Charges include GST where applicable.