Contemporary Winds: Ensemble Intercontemporain Live in Paris!
by Arts House Limited
Sun, 22 Nov 2020

S$10 - S$20
Event is over!
This event has ended and no longer available for booking.
Slated originally to perform in May as part of SIFA 2020, the Ensemble Intercontemporain Wind Quintet will now be streaming this concert from Paris! For their Singapore debut (albeit from further afield), the group's wind quintet presents a passionate overview of 20th century music. Inspired by nature and her sounds, and reflecting her imagined spaces and peculiar discoveries, the wind quintet features music from decorated composers including Claude Debussy, Pierre Boulez, John Cage, Luciano Berio and more. 
The set-list will include -  
- Syrinx of Claude Debuss...
More
Public Sales
Internet:
12 Oct 2020, 10.00am
---
Language
English
---
Duration
Approximately 1 Hour
---
Streaming Details
Following the live stream of the concert on 10 Nov, Tue 8pm, this concert will be available on video-on-demand from 12 Nov 20, 12pm - 22 Nov 20, 11.59pm too. Ticket holders to the live stream will also be able to access the video-on-demand using their existing e-tickets.
Martin Adámek
Born in 1996 in Slovakia, Martin Adámek is developing a rich solo, chamber music and orchestral career. He has already given recitals in numerous concert halls in Europe, North America and Asia. As a solo clarinetist of the Gustav Mahler Jugendorchester, he performed at the Royal Concertgebouw in Amsterdam, Royal Albert Hall in London, Musikverein in Vienna and Konzerthaus in Berlin to name a few. In 2017, he played the Swiss premiere of Michel van der Aa's Clarinet concerto Hysteresis under the baton of Matthias Pintscher and alongside the Ensemble of the Lucerne Festival Academy.
During his solo and orchestral career, Martin has had the chance to collaborate with conductors such as Philippe Jordan, Christoph Eschenbach, Jonathan Nott, Matthias Pintscher, Peter Eötvös, André de Ridder, Thierry Fischer, Zsolt Nagy and others.
Since 2016, he has been a soloist of the Ensemble Intercontemporain founded in 1976 by Pierre Boulez. In 2016, he founded the trio Sen Tegmento with Zuzana Biščáková (piano) and Nao Higano (soprano), which specialises mainly in contemporary music and commissions new works by composers from Slovakia and abroad. Moreover, he is a co-founding member of the Alma Mahler Kammerorchester, which specialises in symphonic reductions of 19th and 20th centuries' works, including original repertoire for chamber orchestra and chamber music of various styles and periods.
While pursuing his studies at the Conservatory of Bratislava (Slovakia) and the Janáček Academy of Performing Arts in Brno (Czech Republic), he received first prize at the Leoš Janáček International Competition (Czech Republic, 2014) and Clarinetto Concorso Carlino (Italy, 2013) as well as other awards. At several masterclasses, he has had the opportunity to study with Charles Neidich, Yehuda Gilad, Harri Mäki, Philippe Berrod and others.
Martin has performed at numerous international and national festivals – BBC Proms, Salzburg Festival, Berliner Festspiele, Lucerne Festival, Biennale Boulez, Young Euro Classics, Music Biennale Zagreb, Musica Nova Helsinki, Prague Spring, Viva Musica!, Ars Nova etc
Jens McManama, horn
Born in 1956 in Portland (Oregon), Jens McManama made his soloist debut at the age of thirteen with the Seattle Orchestra. Following his studies in Cleveland with horn player Myron Bloom, he was engaged as a soloist in 1974 at la Scala in Milan under the baton of Claudio Abbado. He joined the Ensemble intercontemporain in 1979. He has been a member of the "Nielsen" wind quintet since 1982.
In Baden-Baden 1988, he premiered the horn version of ln Freundschaft by Karlheinz Stockhausen. He has taken part in a large number of chamber music premieres, such as Bagatelles by Jean-Baptiste Devillers (for horn and piano). Jens McManama has been teaching chamber music at the Conservatoire National Supérieur de Musique de Paris since 1994. He regularly leads workshops for young musicians, notably at the American Conservatory in Fontainebleau and at Saint-Céré, as well as contemporary music master classes in France and the U.S. Soloist, chamber musician, orchestra musician, Jens McManama is also drawn to conducting ensembles.
He has created a show in collaboration with Eugène Durif entitled Litanies, Fatrasies, Charivari, which was first performed at the Cité de la musique in 2004, and then reopened in 2006 with the title Cuivres et Fantaisies.
Didier Pateau, oboe
Didier Pateau won a First Prize for oboe at the Paris Conservatoire (CNSMDP) in 1978 and joined the Ensemble intercontemporain in the same year. His repertoire includes many 20th century soloist pieces by composers such as Luciano Berio, Heinz Holliger, Gilbert Amy and Brian Ferneyhough. He gave the first performance of Ferneyhough's Algebrah (for oboe and string ensemble), conducted by David Robertson. Didier Pateau has recorded Michael Jarrell's Congruences (for flute, oboe and small ensemble), conducted by Peter Eötvös; Harrison Birtwistle's Five Distances; and, with the Nielsen Wind Quintet, an eclectic programme featuring Berio, Mozart, Reich and Bizet. Didier Pateau also teaches. Apart from his work at the Aulnay-sous-Bois National School of Music, he regularly takes part in meetings with student composers - for instance, those from Michael Jarrell's class at the Vienna Musikhochschule - and gives master classes in Oslo, Halifax and Santiago de Chile. In 2008 and 2009, he was asked to feature as soloist in the Pollini Project at the Salle Pleyel in Paris and at the Scala in Milan. In 2013, he participated in the La Folle Journée festival in Tokyo.
Emmanuelle Ophèle, flute
Emmanuelle Ophèle began her musical training at the Angoulême École de musique. From the age of thirteen, she studied with Patrick Gallois and Ida Ribera, then with Michel Debost at the Paris Conservatoire (CNSMDP), where she was awarded a First Prize for flute. Emmanuelle Ophèle joined the Ensemble intercontemporain when she was 20 years old. Keenly interested in developing the repertoire and in new technology-based areas of expression, she soon began to play a part in new works using the most recent technology: La Partition du ciel et de l'enfer for Midi flute and Midi piano by Philippe Manoury (recorded at Adès) and ...explosante fixe... for Midi flute, two flutes and instrumental ensemble by Pierre Boulez (recorded with Deutsche Grammophon). She also featured in the recording of Marteau sans maître (Deutsche Grammophon, 2005, conducted by the composer).
Awarded the Certificate of Aptitude for Artistic Education, she teaches at the Montreuil-sous-Bois Conservatoire and is invited to many different academies, including Aix-en-Provence, Lucerne, Suc et Sentenac, and Val d'Isère. An important part of her teaching is the exploration of a broad repertoire ranging from baroque to contemporary, jazz and improvisation.
Paul Riveaux, bassoon
Paul Riveaux, born in 1959, studied flute at the Mulhouse Conservatory and received top honors before opting for bassoon. After studies at the Strasbourg Conservatory, then unanimous top honors in bassoon at the Paris Conservatory (CNSMDP) under Maurice Allard, Paul Riveaux won several international competitions (Toulon 1980, Martigny 1983, Fondation Cziffra 1988 and Vierzon 1988). He joined the Philharmonic Orchestra of Strasbourg before becoming a soloist with the symphonic and lyrical Orchestra of Nancy, then the National Theatre of the Paris Opéra Orchestra.
A member of the Ensemble Intercontemporain since 1990, Paul Riveaux premiered the concerto for bassoon Crier vers l'horizon by Suzanne Giraud directed by David Robertson, La conquête de l'espace by François Evans (for bassoon, harp, percussion and electroacoustic), Five Distances for wind quintet by Harrison Birtwistle (recorded with DG), and Dead Elvis by Michael Daugherty for solo bassoon and ensemble directed by Jonathan Nott, as well as Volubilis by Philippe Schœller for bassoon and harp. With Ircam, he also created Unendlichkeit by Frédéric Kahn for bassoon and electronics and played Conical Intersect by Roque Rivas.
A member of the Ensemble Intercontemporain's wind quintet, he has played key works in the contemporary repertoire (Ligeti, Berio, Stockhausen, Kurtág, Cage, etc.) and teaches regularly at the Lucerne Festival Academy. Among other recent experiences, he gave a solo cinema-concert with composition and improvisation to short films.
Live Stream:
Each unique e-ticket allows the ticket holder to view the live stream video during the actual performance on 10 Nov, Tue, 8pm.
As this event will be streamed live, e-ticket holders will not be able to playback the video.
The e-ticket holder may not share their e-ticket link. Online viewing parties and sharing the video(s) via streaming apps are not permitted.
E-ticket holders are responsible for all Internet access costs and landline costs. It is expected that the data usage will increase due to the live stream. SIFA recommends using a stable and high-speed internet connection (Wi-Fi etc.) to enhance the quality of the holder's viewing experience.
The copyright of the video for live streaming distribution and recorded distribution belongs to Arts House Limited. Viewers are not allowed to use or record any contents (video, image, audio, or other copyrighted materials) without permission from Arts House Limited.
SISTIC and SIFA will do our very best to prepare for high-quality live streaming performances. However, due to the nature of live streaming on the Internet, there may be temporary pausing and/ or disruptions caused by unexpected technical problems.
SISTIC and SIFA are not liable for any viewing or browsing problems caused by the e-ticket holder's internet connection or technical hardware or software issues or any cause beyond the control of SISTIC and SIFA.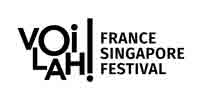 Price Details
(Excludes Booking Fee)
Please add to above price S$4 Booking Fee per ticket for tickets above S$40; S$3 Booking Fee per ticket for tickets between S$20.01 - S$40 and S$1 Booking Fee per ticket for tickets S$20 and below. Charges include GST where applicable.
Pay-as-you-wish to watch: S$10, S$15, S$20

Book your tickets now and get yourself an exclusive SIFA Notebook for free!